San Diego Drains – Should You Consider French Drains?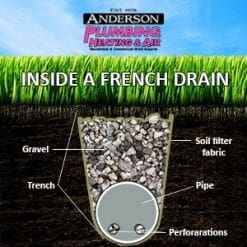 San Diego drain repair experts suggest the key to great landscaping is good drainage. If you have drainage issues around your home, the perfect solution may be French drains. These are underground systems that use perforated pipes that are set in gravel to collect water below the surface and channel it away from your home. *Note we are providing this information as an FYI and do not actually install french drains. We do area drains which are a bit different, and we are happy to consult on the best solution for your landscape.
French Drains: The Construction
It involves digging a trench, then laying in landscape fabric. This lets water pass through, but keeps dirt and roots out. A 3" pipe with holes is then covered in a filter fabric or a drain pipe sock to keep silt from entering the drain holes. The pipe is placed in the trench, on top of the landscaping fabric with the side that has the holes on the bottom, that way the holes are less likely to clog.
The pipe is now covered with gravel. 2 tips for this step are to pin the sides of your landscaping fabric back so they don't slide into the trench when you pour the gravel and also to use prewashed gravel so you're not introducing new silt to the trench. Gravel is poured to match the level of the surrounding surface soil. After the gravel has been leveled out, the landscaping fabric is released and folded over the top of the gravel-filled trench. It can be covered with good soil, grass mulch or even decorative rocks.
Call A Drain Repair Expert or DIY?
Besides preventing puddling in your beautiful landscaping, French drains can also be used to direct water away from your home's foundation or retaining walls. The cost of DIY is not so much for materials, but it is a hefty amount of work, so you may want to consider calling in the professionals. We have provided this blog as a service to our San Diego community, as we do not do french drains. We can install area drains which people often confuse with french drains. We'll post about the difference soon. In the meantime, contact us and we can advise on the best approach for your property.
We serve clients through San Diego and the surrounding areas – from El Cajon, San Marcos, Vista, Escondido and Point Loma to Rancho Bernardo and everywhere in-between! Check out our latest specials and offers to see how you can save with Anderson Plumbing, Heating & Air.