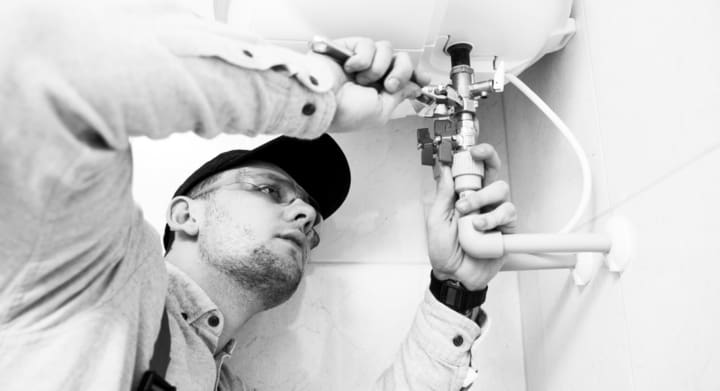 AC Installation
Air Conditioning Installation in San Diego
Staying cool is essential, especially in San Diego. If you need air conditioning installation in San Diego, San Marcos, El Cajon, or surrounding areas, Anderson Plumbing, Heating & Air can help! We've been providing professional air conditioning services since 1978 to homeowners throughout the region. Our expert technicians can handle any kind of ductless or central air conditioning system installation.
The experienced technicians at Anderson can install new ACs or replace existing ones. We have fully stocked trucks with the tools, parts, and equipment needed to do the job quickly and efficiently. Anderson's licensed, insured, and vetted technicians deliver quality work backed by our client satisfaction guarantee.
Call us at (866) 374-0402 to request a free San Diego AC installation quote!
Choosing an AC Unit
Choosing a new air conditioner is a big decision. There are a lot of factors to consider, like size, efficiency, and budget. When it comes to the size of the unit, bigger isn't always better. An oversized AC unit is inefficient and will cool a room before removing sufficient humidity–leaving the room feeling damp and clammy. A professional AC technician will do a load calculation to determine the correct AC size for your home.
Air conditioners use a rating system called SEER, which rates how much energy an AC takes to do its job. With California's strained electrical grid, every bit of saved energy counts, both for the state and for your electric bill.
While a SEER rating of 14 is the minimum required by U.S. law, it is also a respectable number compared to the AC units of old, which often rated in the six to ten range. Higher SEER ratings are preferable, as their increased efficiency can mean significant savings in utility bills. Of course, this higher efficiency means that the unit's initial cost will be significantly more expensive than more budget-friendly units with a lower SEER rating. This initial cost can be repaid over the unit's lifespan in energy savings.
Homeowners with larger homes or those who prefer to set the temperature closer to 70 degrees rather than 76 degrees over the summer benefit more from a high SEER rating. Look at the SEER Energy Savings Calculator to get a general idea of how much you can save with a high-efficiency unit. Units with a SEER rating of 16 or greater are eligible for up to $600 in federal tax credits.
Our technicians will give you their top AC recommendations during our free installation quote. We will perform a load calculation and then give you a range of the best options for your home, ranging from more budget-friendly AC units to more environmentally friendly and efficient AC units.
Installing Your New Air Conditioner
Expert Anderson AC technicians remove existing air conditioning equipment and carefully install the new unit. They will then check your ductwork and ensure it functions properly. We'll carefully remove and replace ductwork sections that are not up to par, carefully bagging them out of the house.
Next, our technicians closely inspect the equipment, checking for leaks and any other damage that could prevent proper functioning. They will then walk the home with you, checking airflow through the ductwork and measuring the temperature of the air flowing through the ducts.
We want to confirm that all your expectations are met. Finally, after thoroughly testing the equipment and ensuring everything is working correctly, our technicians clean up everything, sweeping and taking out the trash to leave the job site better than it was found.
Why Choose Anderson For Your AC Installation?
When you choose Anderson for your air conditioning installation in San Diego, you'll receive:
High-Quality Workmanship
Lifetime Guarantee of Work Done
Free Installation Quotes
Fast, Correct Installation
100% Satisfaction Guarantee
Multiple Financing Options
Staying Cool is a Top Priority, No Matter the Day or Time.
Anderson technicians are available from 7 a.m. to 7 p.m. for standard rates. We also offer 24/7 AC emergency services.
See Why Nobody Wows Clients Like We Do!
Schedule Online
Book your appointment with our licensed and trusted techs today.
Emergency Service
Don't wait for help. Connect with a live operator now.

VIP Membership
Snag service discounts, priority scheduling and more as a VIP.