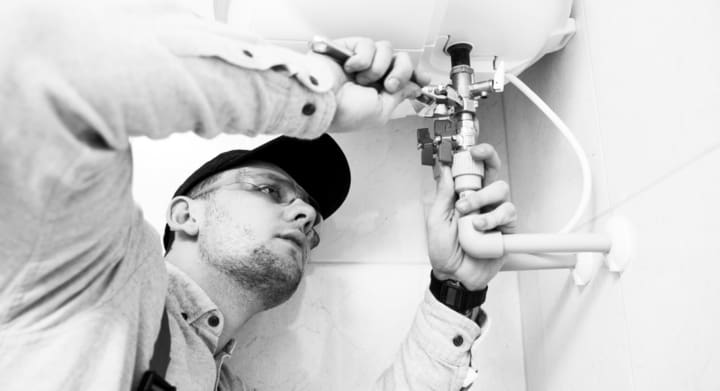 Drain Replacement & Installation
Drain Replacement & Installation in San Diego
Your plumbing system can be amazingly resilient, but drains do reach the end of their service life over time. Corrosion may destroy their structural integrity, construction can accidentally damage pipes, and tree roots can invade drain lines. 
Drains can last decades when installed correctly and with the correct materials. They are essential to a sanitary and healthy home. When you need a drain replaced or a new one installed, it's crucial to have a professional San Diego drain expert do the job. 
Anderson Plumbing, Heating & Air offers a wide range of drain services in San Diego, including drain cleaning, installing brand-new drains, or replacing damaged or worn-out drains to protect your home and keep your plumbing running smoothly.
We've Helped Thousands of Homeowners with 45 Years of Service!
At Anderson Plumbing, Heating & Air, we've helped thousands of homeowners get the services they need with over 45 years of service in San Diego. We've never lost sight of our founding mission: to provide you with plumbing services and a client experience that can't be matched.
When it comes to drain repair and replacement, nobody wows clients like we do. Our clients know they can depend on us to show up promptly and complete their project professionally, up to code, at the quoted price, and on time. Whether your job needs a single plumber or a whole crew, we can handle any big or small project. 
Drain Replacement Services
Drain lines are essential for carrying away different kinds of waste and water away from your home, some of which can be acidic or corrosive. Your drains are tough, but eventually, they will give out, and leaks may form. Leaking drains can cause damage to walls, yards, and even the soil on your property.
When homeowners encounter clogged drains created by organic substances like fats, oils, or hair, they may put chemical drain cleaners down their pipes to clear the clog. These drain cleaners can harm your pipes and cause or speed up corrosive reactions on your pipes. They can also sometimes produce significant amounts of heat within your pipes as they eat through the clog. This heat can weaken, crack, or break your drains.
Anderson will professionally replace any drain in your San Diego home quickly and with minimal invasiveness. When we get to the job site, we'll look at your problem and determine the best way to address it. It may be that your pipe only requires repairs instead of replacement. But sometimes, a new pipe will bring the best peace of mind and longevity.
Our Drain Installation Services
Do you want to add a sink to your mudroom or basement? Or, are you wanting a water tap in your garage? We offer drain line installation for all San Diego residents.
New drain lines can vary in complexity, usually based on the size of the line, where it is installed, and what type of drain line is required. No matter how big or small your drain installation project is, our experienced plumbers will complete it with outstanding workmanship. A properly installed drain line will be out of the way, leak-free, efficient, sloped correctly, and built from materials that will last.
Get in Touch
Leave your San Diego drain installation services to us! Contact Anderson Plumbing, Heating & Air today to schedule an appointment with our team!
See Why Nobody Wows Clients Like We Do!
Schedule Online
Book your appointment with our licensed and trusted techs today.
Emergency Service
Don't wait for help. Connect with a live operator now.

VIP Membership
Snag service discounts, priority scheduling and more as a VIP.