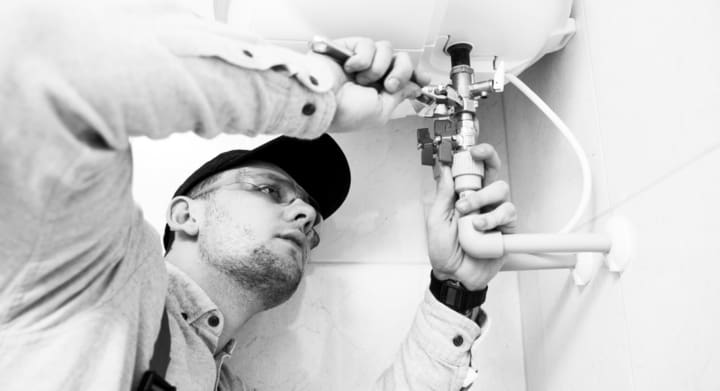 Backflow Preventer
Backflow Preventer Installation & Repair in San Diego
Protect Drinking Water with a Backflow Preventer
A backflow occurs when water runs backward through your pipes and into the drinking water system. The water flowing backwards from a cross-connection may contaminate the drinking water supply. Lawn irrigation systems, swimming pools, and hot tubs are common cross-connection points.
Anderson Plumbing, Heating & Air installs and repairs all types of backflow prevention and offers optional safety cages. We will also certify your backflow preventer per water district regulations. If you need backflow preventer installation or repair in the San Diego area, call Anderson Plumbing, Heating & Air today!
Advantages of Backflow Preventers
There are many reasons to consider having a residential backflow preventer installed. First and foremost, a backflow preventer can offer you unparalleled peace of mind in knowing that your family is safe from potentially harmful contaminants.
Other benefits of backflow preventers include that they:
Prevent drinking water from becoming contaminated
Typically require little maintenance or testing
Have relatively very long lifespans
Our plumbing technicians are licensed and certified to ensure your San Diego backflow preventer is installed or repaired correctly and to code. In most cases, we can dispatch a plumber the same day and our vans are "warehouses on wheels," so we can handle your repair or replacement on the first visit. You are protected when you call us. We are licensed, insured, and put our 100% Satisfaction Guarantee in writing.
Backflow Preventer Repairs
If you have a backflow preventer system installed, you've probably asked yourself the following question: "How do I know if my backflow preventer is broken?" A plumber can test your prevention system, but there are a few visible signs you can be on the lookout for as well:
Visible buildup or discharge on the system
Any leaks or dripping water near the preventer
Negative pressure in the system / pressure fluctuations
Water hammer (Banging sounds in the pipes)
Generally speaking, it's best to have a professional plumber check your backflow preventer at least once a year to ensure it's working properly. Just like you may not have noticed water contamination before you installed the preventer, you may not be able to see contamination if the system fails.
How Residential Drinking Water Can Become Contaminated
According to the City of San Diego Water Department client Support Division, there are a number of factors that can lead to your drinking water becoming contaminated. If you suspect your home has any contamination like the situations mentioned below, contact the Anderson Plumbing, Heating & Air plumbers to learn more about our backflow preventer installation services.
Some of the most common causes of residential water contamination include:
Back-siphoning and backpressure
Worms in irrigation systems
Insecticide from garden hoses
Water mixed with car wax
1) Back-siphoning and backpressure
Back-siphoning is caused by negative or reduced pressure in the supply line to a facility or plumbing fixture. Back-siphoning may be caused by an open fire hydrant, water main breaks, and water system maintenance. Backpressure occurs when a drinking water system is connected to another system operating at a higher pressure. Backpressure may be caused by auxiliary water pumps, boilers, and/or elevated buildings.
2) Worms in irrigation systems
Residents found parasitical worms (nematodes) in their water after the atmospheric pressure breaker malfunctioned on a privately owned underground sprinkler system. During a water pressure drop, the vacuum in the system sucked some water from the sprinkler into the city water. The homeowner found worms swimming in the bathtub while filling it to bathe his child.
3) Insecticide from garden hoses
The highly toxic insecticide chlordane was back-siphoned into the water system. An extermination company employee had left one end of a garden hose in a barrel of diluted insecticide and the other connected to an external home hose bibb (outside spigot). When the water supply system pressure dropped due to repair work, the chlordane was sucked back through the house into the water system.
4) Water mixed with car wax
A resident called in to complain that the tap water was pink, after an estimated 2,000 gallons of water mixed with car wax got into the city's drinking-water supply. City staff traced the problem to a car wash. The facility had been using a pressure washer to clean out pipes as part of maintenance work on its plumbing.
A backflow preventer can eliminate these and other potential contaminants from your drinking water, keeping you and your family safe and healthy.
Find out more when you call us at (760) 374-3274! We're happy to answer your questions and help you find the right solution for your home.
See Why Nobody Wows Clients Like We Do!
Schedule Online
Book your appointment with our licensed and trusted techs today.
Emergency Service
Don't wait for help. Connect with a live operator now.

VIP Membership
Snag service discounts, priority scheduling and more as a VIP.