How to Determine if Your Shower Valve is Bad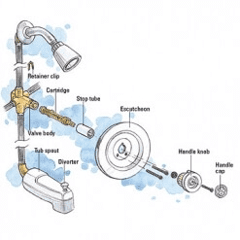 When you use the handle to turn on the shower, does it grind? Does it not turn at all? What about the hot water? Is the water trickling and not coming out? Or is it not mixing hot and cold together correctly? Maybe you are not getting any hot water or no water at all. It seems the water just suddenly stopped. This means you have a bad shower valve.
How to tell if your shower cartridge is bad:
Cartridges are one of several common types of faucets and are particularly common in showers. This type of shower uses holes to regulate the flow of water from your faucet or shower head.
There are a few ways to tell if your shower cartridge has gone bad:
Dripping or running water when you turn your shower off (most common)
Difficulty turning the shower handle, which worsens over time
Shower handle gets stuck or "slips" and doesn't turn on the water
If the cartridge wears out, your shower valve won't function properly. (Indicated by leaking or seeping water.) The rubber rings and parts around the shower valve may need to be replaced, as these shower components are susceptible to breaking, corrosion, or dry-rot.
Broken Shower Knobs
Sometimes the shower valve seems bad but the plastic knob is cracked instead. So, you will have to hunt for that part so you will not have to spend money to replace the whole thing.
Badly Installed Shower Valves
Believe it or not, your shower valve can be installed upside down. So, when the shower is on and the water is coming out of the shower head you also see water coming out of the spout. Some water coming out of the spout is normal. If it becomes excessive, check for this error first. If the valve is installed properly but you still see water coming from both the shower head and the tub faucet, you may need to contact your plumber for a diverter replacement.
Next time you see these problems start before your shower valve goes really bad, do preventive maintenance. This will save money in the long run.
Anderson Plumbing, Heating & Air offers plumbing and HVAC services to customers in San Marcos, San Diego, Vista, Escondido, and throughout San Diego County.