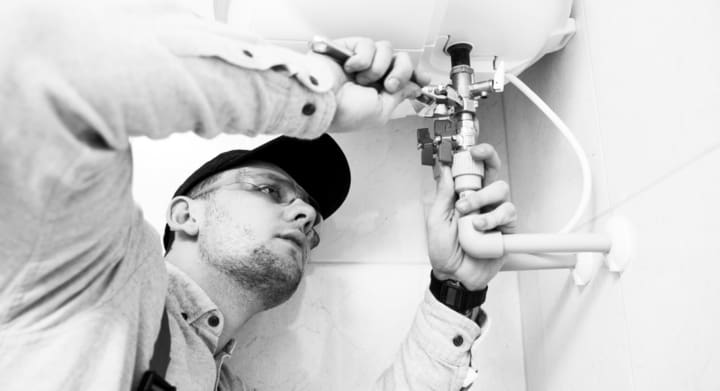 Ductless HVAC
Ductless Heating & AC Services in San Diego
If your home doesn't have central air or the room to add ductwork, then a ductless mini-split system is the perfect solution. These systems, as the name suggests, do not require any ductwork. Instead, they provide zoned heating and cooling to different areas of your home. 
Ductless mini-splits are also great solutions for out-of-the-way rooms that need extra heating or cooling, such as room additions, workshops, studios, or garages.
Are you interested in ductless AC installation in San Diego? Call Anderson Plumbing, Heating & Air at (866) 374-0402 to request a free installation estimate!
In San Diego, we're blessed to enjoy relatively mild temperatures throughout most of the year. Because of this, many homes in our area, especially older ones, were never designed or built with central air conditioning systems in mind.
Despite our mild weather, many homeowners find that it can be uncomfortably warm during the summer. If you want a ductless AC system installed in your San Diego Home, trust Anderson Plumbing, Heating & Air. We have over four decades of industry experience with a focus on customer service.
How Ductless Mini-Split Systems Work
Ductless heating and air conditioning mini-split systems work similarly to a traditional central air HVAC system but don't require installing ductwork throughout your home. There are two primary components: the indoor unit and the outdoor unit.
The indoor unit takes in warm air and cools it by pushing it over a cooling element–in this case, evaporator coils–which absorb the heat and move it to the outdoor unit. The outdoor unit then takes the heat and blows it outside.
Single and Multi-Zone Applications
Ductless mini-split systems are handy in several situations. They, of course, work great for homes that do not have the room to handle ductwork. This would be considered a multi-zone application, as you'll have multiple units working together to cool multiple zones in your house. These units all communicate with one another.
Ductless mini-split systems are also helpful for single zones, such as cooling or heating a single room of your home. This room may be upstairs, or it gets more sun than other parts of the house and needs an extra boost in cooling. Or maybe there is a house addition that doesn't have central air like the rest of the house, but you still want to be comfortable in it.
Attics, room additions, basements, garages, insulated sheds, workshops, studios, and more all benefit from a single-zone application of the mini-split heating and cooling system.
Benefits of a Ductless HVAC System
A ductless HVAC system for your San Diego home has many benefits. Even if you already have a central HVAC air system, you can enjoy an even greater level of comfort that you can count on all year long.
Some of the main benefits of ductless HVAC systems include:
Simple and relatively quick to install
Lower cost of operation than central HVAC systems
No ductwork required for installation
Ability to customize cooling in various rooms and areas of the house
Improved dehumidification throughout your home
New ductless HVAC systems can be incredibly energy efficient, saving tons of money on energy bills. This is magnified when you realize you only have to heat or cool rooms where you intend to spend time. Rooms that aren't used often can have lower settings and save energy.
Can I Cool My Whole House with a Ductless Mini-Split?
Ductless mini-split heating and cooling systems are powerful enough to cool your whole house down. A single outdoor unit can connect to multiple indoor units. Each home is different, so it's best to speak to an expert about installing a multi-zone ductless mini-split system.
Anderson offers free installation quotes on ductless mini-split heating and cooling system installations in San Diego and surrounding areas.
Ductless Mini-Split System Installation, Repair, & Maintenance
Anderson Plumbing, Heating & Air offers complete installation, repair, and maintenance services for ductless heating and AC systems in San Diego. Our expert technicians can maintain or repair any major ductless heating and cooling unit brand. We handle a full range of AC services throughout San Diego and can help you with your AC needs! Our technicians are well-trained, licensed, and equipped with the latest technology and tools to always provide superior service.
Schedule your San Diego Ductless HVAC Service Today!
Call today or contact us online to discuss your needs with an Anderson Plumbing, Heating & Air team member.
See Why Nobody Wows Clients Like We Do!
Schedule Online
Book your appointment with our licensed and trusted techs today.
Emergency Service
Don't wait for help. Connect with a live operator now.

VIP Membership
Snag service discounts, priority scheduling and more as a VIP.