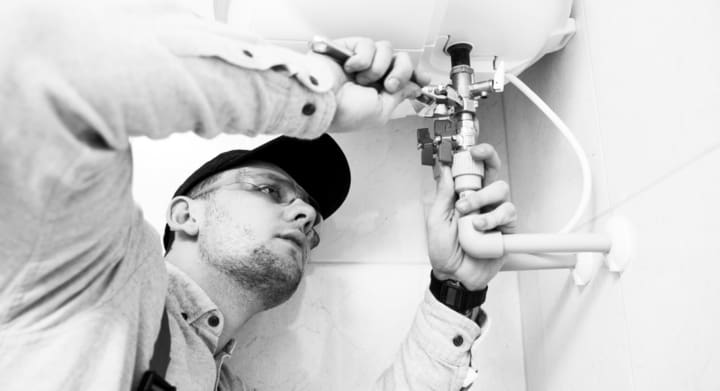 Grease Traps
Grease Trap Services In San Diego
Reliable Installation & Grease Trap Plumbing Service
Kitchen wastewater contains FOG (fats, oils, and grease). These contaminants don't break down as easily as other wastewater from showers and toilets. Too much FOG may back up a septic system.
Grease traps, also known as grease interceptors, separate the FOG from the wastewater before it enters the septic system. A grease trap is a tank where kitchen wastewater flows through before moving to the septic system.
If you're interested in residential grease trap installation or need repairs or replacement for an existing grease trap, contact the pros at Anderson Plumbing, Heating & Air. We offer a full range of grease trap services for homeowners throughout San Diego County.
Frequently Asked Questions
Do you need a grease trap installed?
Homes around San Diego do not typically have grease traps. The common household drain can usually handle the little bit of FOG produced in a home (especially if you take proper care of your plumbing with routine drain cleaning). 

That being said, you may consider grease trap installation for a few reasons. For one, you can use a grease interceptor to recycle gray water for use in your lawn or garden. 

It's important to understand local regulations and proper maintenance for grease traps so contact us if you're considering whether this is right for your home or lifestyle.
How often should I pump my grease trap?
If your home already has a grease trap, it needs to be pumped depending on the regulations set forth by your wastewater district or may just be on an as-needed basis. This isn't a pretty job and may smell pretty foul. In fact, it may not just need pumping. You may need to have the grease lines hydro-jetted. If repair is needed, this will likely require some digging.
How should I properly clean my grease trap?
Cleaning a grease trap is a long task, so you'll need to set aside a substantial amount of time from your day. 

For the best results, follow these steps:

1. Remove the grease trap lid carefully and make sure you don't damage the gaskets on the lid.
2. Using a bucket or small pump, remove the water from the grease trap and set it aside.
3. Scoop the grease out from your trap with a shovel or heavy-duty scooper. Be sure to scrape the bottom, sides and lid of any excess grease. This will prevent quick build-ups from debris you knocked loose.
4. Scrub the trap and flush the screens out.
5. The water from the bucket you set aside back into the grease trap
6. Reinstall any parts you removed to clean and replace the lid.
Who to Call for Installation, Maintenance, or Repair
Because improperly installed or maintained grease traps can become fire hazards, you'll want to have them serviced by a licensed, trained professional.
Our plumbing technicians are licensed, insured, and very well-trained. In addition to our courteous and clean service, our work is backed by our 100% Satisfaction Guarantee in writing.
Call us today at (866) 374-0402 to schedule an appointment for residential grease trap plumbing services in San Diego or the nearby areas!
Get in Touch
Contact Anderson Plumbing, Heating & Air to learn more about our grease trap plumbing services!
Schedule Your Service Today
No matter what your issue, we've got the solution for you. Schedule service with our trusted experts today.
Need Emergency Service?
Don't wait to get help during an emergency. Connect with a live operator now for immediate support.